DermaMatrimony.com is an online matrimonial (marriage) platform for people with Vitiligo (leucoderma), Psoriasis, Albinism, Burn, scar & other skin conditions.
It takes a lot of personal courage for a prospective bride to register on a matrimonial platform, looking for her prince charming.
We understand this very well and as an enterprise with a social message, it is our moral and ethical responsibility to take utmost care of our female members safety and comfort.
Let's take a tour of all the safety measures to enhance your trust in DermaMatrimony.com's efforts and intentions: –
Your contact details (Email ID and Mobile Number) are 100% safe
DermaMatrimony.com is a matrimonial platform for 'real' people. Hence, it is compulsory to provide the correct Email ID and Mobile number at the time of registration. We take pride in announcing that we have 100% mobile verified users in India. If a user couldn't verify mobile number at the time of registration, we make a verification call within 48 hours of profile registration to confirm the mobile number and other credentials.
We treat your contact details as confidential and maintain the safety and privacy at all costs. Your contact details are ONLY shared with matching profiles who fit in your partner preferences.
Moreover, you can choose to 'hide' your mobile number and it will be shown only to the 'accepted' members.
How to set Mobile privacy as 'Visible after Acceptance' during registration?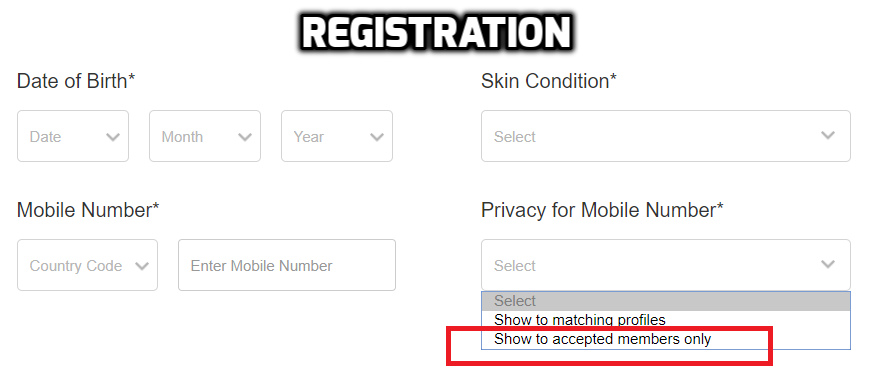 How to set Mobile privacy as 'Visible after Acceptance' after registration?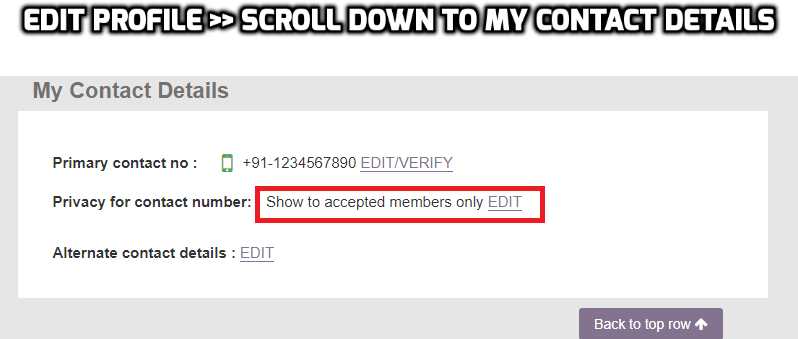 Your photos are protected
Add a couple of your recent photographs to increase the chances of getting your ideal match by 10 times.
Benefits of adding Photos
Get 10 times more interests and responses
Profile looks more appealing
Appear higher in search results
We care for your safety
Other members can't download your photos. (Right clicking not allowed)
All the photos are water-marked to avoid misuse
Your photos will not appear in search engines
Protection against Fake or Abusive members
We screen every registered member's profile for fake information and do make verification calls if required. Also, we encourage people to submit any of their Government issued ID cards to verify Name, Age, Photo and Location.
However, there is a lot to be done in this regard and we are continuously working to make DermaMatrimony.com a safer matchmaking platform.
If any member misbehaves with you or you notice incorrect information in any profile, we request you to 'Report' that profile for misuse. We will take appropriate action in this regard without disclosing your identity to that member.
We have zero tolerance policy against abusive behavior or inaccurate profile information!
How to 'Report Misuse' a member?
Go to Full profile of that member >> Click on 'Report Misuse' Button below Profile Photo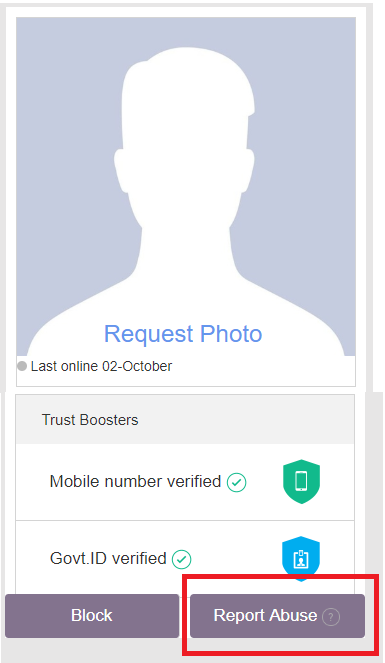 Your Govt ID is not shared with other members
As explained above, we encourage all the members to submit any of their Govt issued ID's to improve credibility of their profiles. The customer support team uses these documents to verify the key profile credentials. We never ever share these documents with other members or any other third party.
Contact us in below ways to get answers to all your queries:
Email – contact@dermamatrimony.com
Phone – +91 9911817950 (Mon – Sat, 10 am – 7 pm, Indian Standard Time)
Receive Love, Hope & Inspiration...
Subscribe to our mailing list for Positive, inspiring articles
Thank you for subscribing.
Something went wrong.