Every girl loves to dream of her marriage from the early teenage. It's one of her favorite fantasies to visualize the wedding dress, bridal makeup and jewelry and of course a caring, loving husband. But, it's a very bumpy road ahead if you have got developed the randomly scattered white vitiligo spots on your skin. The insensitive and ignorant attitude of the society to blame for.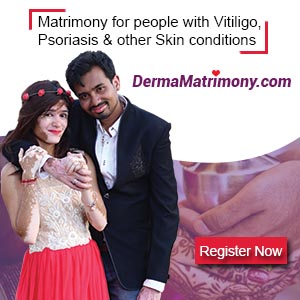 If you are a prospective bride with vitiligo who is struggling to find a suitable match, you would surely relate to one or more of the below listed challenges that a woman with vitiligo may face in her journey of getting married. This list of challenges is based on the experiences shared by various female members registered on DermaMatrimony.com.
The guy I loved wasn't 'man' enough 

Having vitiligo, I always shied away from getting into stuffs like dating and relationships. My subtle negative self-image always stopped me from accepting love proposals from boys in school and college. But, by the time I got a job and was independent enough to take my life decisions, I gradually developed the 'I don't care' attitude for vitiligo. The supportive and accepting work environment played a big role in nurturing this mindset. So, when a colleague of mine revealed his feelings for me assuring me these 'innocent' spots on my body doesn't matter at all to him, I just couldn't stop myself from saying 'yes'. I was feeling like on the seventh heaven because I got everything that I had always doubted for- financial independence, freedom from the stigma of vitiligo and the love of my life. But, I was proved wrong the day I met his parents, particularly his mother. She bombarded me with questions- when did you develop vitiligo; who else in your family has it too; how you got this lifelong condition. She even declared that it would spread to other body parts rapidly after the pregnancy and it was a hint that I don't fit in to be her daughter-in-law. During all this emotional 'torture', the discomfort was clearly visible on my face, but, that momma's boy didn't say a single word and it was a silent consent from him to her mother's opinion. That was it. We never met each other in personal capacity again and good for me that he is not working in the same company anymore. It was painful at that time, but, now, I feel that it was a good thing because I got to see his true face so early. You know, break up before marriage is far better than a divorce later on.
Read more:- Living with Vitiligo has made this woman a better person
Encounter with an educated 'illiterate' guy, full of arrogance and ego

Another female user shares her ordeal where her parents struggled hard and finally got her a decent, educated boy for marriage. As he agreed to marry after understanding the non-harmful nature of vitiligo, she expected him to completely overlook the 'skin' thing and shower her with love, care and affection that every bride-to-be expects from her future husband. But, he turned out to be an educated 'illiterate' who would make her realize every now and then that he is doing a 'favor' by marrying her. His ego and arrogance was just 'killing' her. Marriage is based on mutual respect and love, but, he was certainly looking for a master and slave thing. So, she called off the marriage and moved on. As with every girl, her parents stood firm with her and shielded her from society's questions, criticism and taunts and it's a thing of the past now. She is happy to get rid of that 'ugly' relationship.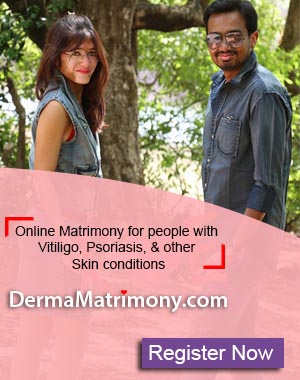 Guys just don't read the 'About Myself' section of my matrimonial profile

Ms anonymous shares her frustrating experience of using conventional matrimonial sites. At first, she didn't mention about her skin condition while creating the profile fearing rejections. She decided to reveal about her vitiligo to the guy(s) after knowing each other a little. But, this idea didn't work and almost everyone backtracked as soon as they got to know about her skin challenge. Then, she finally explained about her vitiligo in the 'About Myself' section of the profile and expected to get responses from only those guys who are comfortable with it. But, to her surprise, majority of the guys approached her without reading that section. They would simply see her profile photo (she doesn't have vitiligo spots on her face), and take the phone and call her. It was frustrating because she was still forced to explain about vitiligo to every guy and the end result was the same as it was earlier. In other words, these guys were using matrimonial websites for dating; just need some quick, instant fun, and have no intention for a long term commitment.

Finally comes the rare 'species' who compare vitiligo spots

Another user, having visible white spots on her face and hands, shares her quota of struggle where even on DermaMatrimony.com website, the prospective groom's family was having some strange reservations. Although both, the boy and girl, has got vitiligo spots, the boy's parents rejected her because their son has vitiligo spots on unexposed body parts only. Living with vitiligo, that boy and his family should have understood the unpredictable nature of vitiligo that it can spread anytime and the person has very little control over it. What if he marries a girl with mild vitiligo symptoms and her vitiligo got increased after marriage? Will he leave her then? Well, that's a weird logic. But, nothing can be done if someone has got such a rigid approach.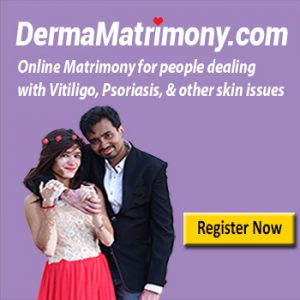 What's our point of view?
Marriage is an integral part of a person's life. No doubt about it! Also, finding an ideal life-partner is a hard nut to crack and vitiligo further increases this challenge manifold.
But, we should not forget that a lifelong relationship such as marriage is built on the foundation of mutual respect, love and care. Hence, getting desperate due to delay in marriage or rejections will not help at all. In fact, it may ruin the things. Just let the things take their natural course.
Sooner or later, you will meet your prince charming who will get down on one knee and ask for your hand. He will be mature enough to understand that the external beauty is short-lived, and, the real beauty is an individual's nature which is here to stay forever. You deserve an understanding, caring and compassionate husband; nothing less than that!
Read more:- Vitiligo and Marriage : Real life lovely couples
Hence, the way ahead is- invest in yourself, make efforts to achieve your life goals, further improve your personality and your professional competencies, attain financial freedom and cherish the luxury of having lovely parents, family and friends. While doing all this, just keep searching for your dream life-partner as well and that day will come very soon when you will be the center of attention as the bride and your caring husband will be beside you.
Love yourself & you will find someone who will love you for who you are.
(Ashish Agarwal authored this article on the basis of challenges as shared by various female users of the DermaMatrimony.com. If you want your experience to be listed here, please write to us at contact@dermamatrimony.com)
Receive Love, Hope & Inspiration...
Subscribe to our mailing list for Positive, inspiring articles
Thank you for subscribing.
Something went wrong.