Rakesh Nahar and Ekta Oswal Nahar are the brand ambassadors of DermaMatrimony.com– online matchmaking (marriage) platform for people with Vitiligo (leucoderma), Psoriasis, & other skin conditions. Let us discover how they met each other and how their lives have changed for good after marriage.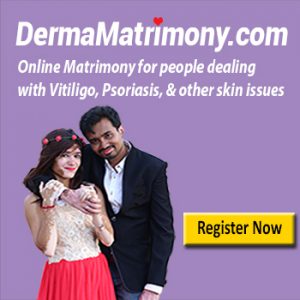 "Vitiligo is a blessing in disguise for me. Just because of it, today, I am a part of Rakesh's family. I feel extremely lucky to have a loving and caring husband like Rakesh who understand me without saying a word. Both of us have vitiligo and we are proud of each other. We love each other for everything, including our vitiligo." says Ekta.
Vitiligo is quite an innocent, harmless skin condition which affects around 1-2% of the world's total population. It is a non-communicable, non-painful and non-fatal skin condition.
In short, apart from affecting the physical appearance, vitiligo doesn't have any serious consequences as such. Thus, a person with vitiligo can get married and live a normal life without much issues.
But, the reality is different. The severe lack of social awareness about vitiligo causes stigma and discrimination. Numerous myths are prevalent in the society about vitiligo which makes it a major obstacle in finding a suitable match for marriage. Multiple rejections and delay in marriage can compel a person with vitiligo to make numerous compromises while choosing a life partner.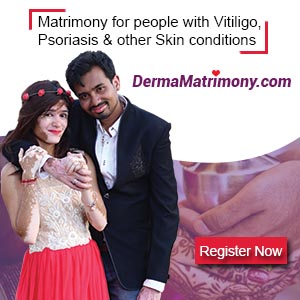 Rakesh and Ekta also faced problems in marriage due to vitiligo
Rakesh, a 29 years old, tall, handsome and well-educated boy from a reputed business family in Bangalore was frustrated due to multiple rejections in the marriage proposals. The random white patches on his body were spoiling it for him.
"I was an ideal boy for marriage minus these vitiligo patches on my hands. Just like any other person with vitiligo, I have had my share of humiliations and social discriminations due to vitiligo. For example, one of my classmates in college would never hand shake with me fearing that vitiligo is communicable. With time, I had developed my immunity against such incidences and these occasional discriminatory behaviors would not trouble me anymore. But, rejections in marriage was something very stressful and frustrating. It destroys your self-esteem and confidence. You start losing hope and faith in life. To make the things worse, not only people reject your proposals, they would show sympathy with you as if you are a handicap."
Similar was the story of Ekta, a 27 year old beautiful girl from Satara, Maharashtra in India. A commerce graduate with diplomas in interior designing and web graphics designing. She was struggling to find a decent match due to the highly visible white spots on her face and hands.
"I have had my share of struggle and hard time during the school and college time. However, my parents love and teachers support kept me going. Also, I do have a small group of my besties who never made me feel if I am different from them. But, my relatives (particularly the aunts) used to discriminate me a lot. When I grew up, those 'cruel' relatives would express their 'fake' sympathies to my parents- "who will marry this poor girl", "how are you going to search a groom for your daughter". It was so painful to see my parents going through all this because of my skin condition.
India is a male dominated society and every parent want a perfect bride for their son. By that logic, I had no chance of getting married due to these hallmark vitiligo spots on my face. After an extensive search, my parents could find a few proposals where the other party were ready to accept me in exchange of heavy dowry. I strongly opposed this idea! Neither I am an object to be exchanged with money nor marriage is a deal. I explained my point of view to my parents- they agreed and supported my decision."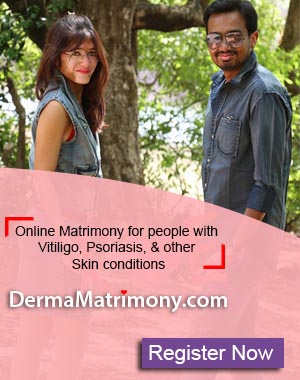 How they met each other
Rakesh registered on an online matrimonial website and started looking for girls with vitiligo.
"After those heart-breaking rejections, I made my mind to search and marry someone with vitiligo only. So, I registered on a matchmaking website and took a premium membership. As none of the matrimony websites had separate sections for people with vitiligo, so, it took me almost 6 months to find Ekta's profile. I immediately sent her interest and asked for her contact number."
Ekta liked Rakesh's profile as well and discussed his proposal with her parents. Her father talked to Rakesh and made him clear about their 'no dowry' principle. Rakesh told him that he is just looking for a lovely, caring and understanding life-partner with whom he can spend the rest of life happily without bothering about vitiligo anymore. He impressed Ekta's father with his thoughts and mannerism. Rakesh and Ekta spoke to each other for the first time on 25th Dec 2015 and within 4 months, they got married.
Ekta still rejoices the day when Rakesh sent interest on her matrimony profile.
"I made it clear on my matrimonial profile that dowry seekers need not to contact us. Though, it looked a brave call to my parents, but, somewhere deep down my heart, I was afraid that certainly I am going to remain unmarried forever. One of my friends also had vitiligo and it was a case of minor vitiligo spots on hands only. Still, her parents were forced to give heavy dowry. So, it looked illogical to think that someone would marry me without dowry considering that I had vitiligo spots on my face. But, when Rakesh contacted me and told me that he is also dealing with vitiligo, I took it as God's will and immediately shared his profile with my parents. After getting approval from my father, I talked to him over the phone and we discuss a lot of things including vitiligo. We were able to relate to each other's experiences and struggles and in no time, we decided to get married."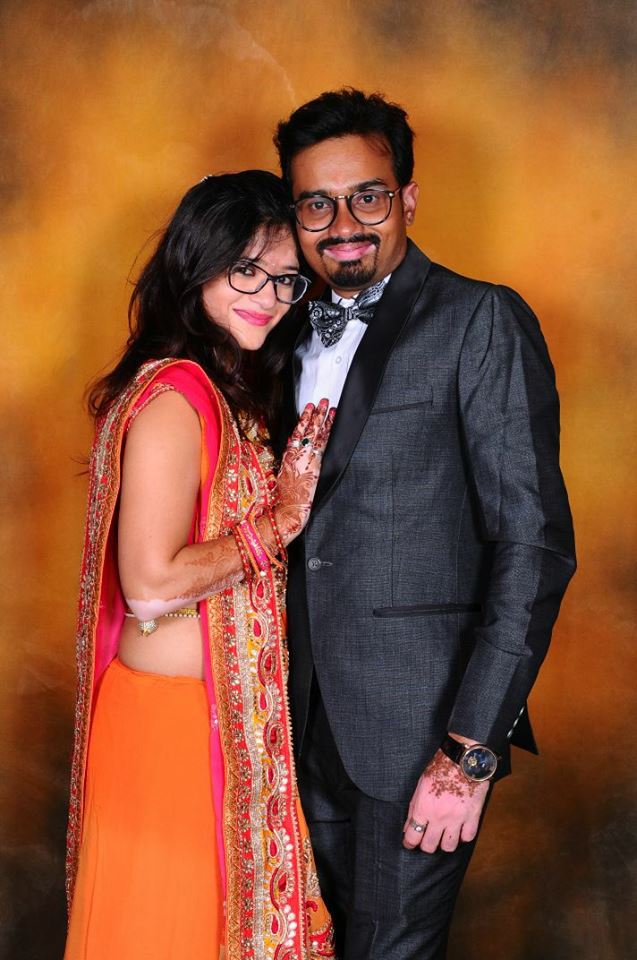 Our lives have changed for good, says Rakesh and Ekta
"All my problems are gone now. I can't ask for more.  I have a wonderful, loving husband who understands my emotions and supports all my decisions. My in-laws take me as their daughter, feel proud of my educational achievements and even encourage me to help Rakesh in his business. It has been more than 18 months since we married and not for a single moment, I have ever felt the need to hide my vitiligo spots. My successful marriage is a tight 'slap' on the face of all those people who tried to discriminate or exploit me and my parents in the name of vitiligo." says Ekta
Similar are the views of Rakesh. He equally feels gifted to have a loving partner like Ekta in his life.
"Before marriage, there were so many fears in my mind-
Will my wife accept my vitiligo?
How her parents would react to my skin condition?
What if my vitiligo spreads to other body parts after marriage?
All these doubts are out of the question now. Trust me, now, hardly I ever think of vitiligo because when both of us have the same skin condition, it doesn't matter at all if it would increase in the future or decrease. We have completely accepted each other and our skin condition also." Says Rakesh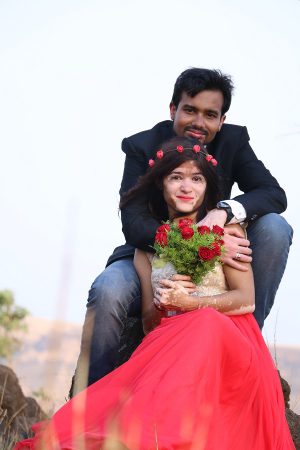 Both parents have vitiligo. What if the kids also develop vitiligo?
Rakesh explains his point of view on this obvious question in a wonderful manner.
"Vitiligo has a weak hereditary (genetic) component, around 15-20% only, and most likely, it will not pass on to the next generation. So, why to fear so much for something uncertain!
Even if it happens, nothing to worry. For us, vitiligo is normal. It is not degrading our quality of life by any means. We don't take vitiligo as anything 'ugly'. So, if our child will also develop vitiligo, we will take it as God's will and ensure him/her a good quality life.
We will be hopeful that by the time our kid will develop vitiligo, the doctors/scientists will come up with a breakthrough treatment. We will teach our child all the basic rules of life that how to remain confident and strong and not to feel any less due to vitiligo.
We will make our child so confident that no one can dare to blackmail or exploit him/her in the name of vitiligo or no one can dare to humiliate or stigmatize him/her. You know, Life is not to be feared for anticipatory fears of the future, but, it is to be lived in the present moment." says Rakesh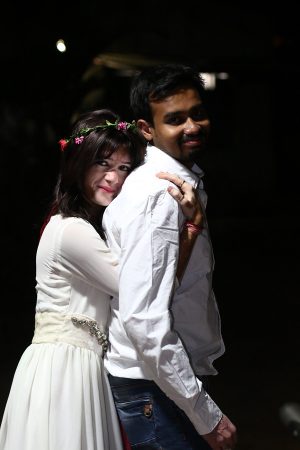 Message for prospective brides and grooms with Vitiligo
Ekta has this wonderful message for all fellow young females dealing with vitiligo and struggling to find a wonderful soulmate.
"Vitiligo is just a normal skin condition which can happen to anyone. It's not going to harm other people. So, there is no reason to be ashamed of or being apologetic. Be bold and confident. Embrace your skin condition and accept yourself wholeheartedly. Our family and close friends are going to be with us forever. So, nothing to worry. As far as marriage is concerned, marry someone who understands that beauty is skin-deep and accept you as you are with all the love and warmth. Don't fall prey to the social evils who would ask for dowry or other financial benefits to marry you because such idiots don't deserve a beautiful human being like you."
Marry someone, who is proud to have you. Be with someone who loves you unconditionally with or without vitiligo. Choose a life-partner who see beyond your skin and love you unconditionally.
Receive Love, Hope & Inspiration...
Subscribe to our mailing list for Positive, inspiring articles
Thank you for subscribing.
Something went wrong.