Today, we have got another mesmerizing love story of a beautiful vitiligo couple who decided to get married and say goodbye to the feeling of insecurity forever. When you choose a life-partner who has similar life experiences as yours, the level of comfort between you is simply incredible. You need not to worry about the 'skin' thing anymore so that you can concentrate on your career, family, personal life goals and other aspects of your life. It will simply reduce the level of stress and anxiety in your life substantially and as we all know that vitiligo improves automatically as stress is reduced.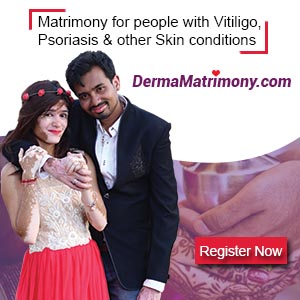 Vitiligo is a non-communicable, non-painful and quite a non-harmful skin condition. It is not medically dangerous. In short, vitiligo is not medically dangerous; it just affects the physical appearance of a person. But, the obsession of Indian society for clear, flawless skin makes vitiligo a major hurdle in finding a suitable match for marriage.
Due to severe lack of awareness among the general public, many myths and misleading information are prevalent in the society that a person with vitiligo is not fit for marriage or marrying someone with vitiligo is risky as this skin condition will pass onto the next generation also.
It is not true!
In reality, vitiligo has a very weak genetic (hereditary) component and in 15-20% cases only, it may pass on to the future generation. Hence, a person with vitiligo is as much fit for marriage as any other person.
Marriage was a hard nut to crack for Amit and Supriya
Amit Kakade, a 29 year old handsome, well settled boy from Pandharpur, Maharashtra in India was struggling to find a decent match just because of the randomly spread white patches on his body.
"I developed vitiligo when 16 and by the time I turned 21, vitiligo patches intruded my face and hands. There was no way to hide them and I sort of accepted them as a part of my life. I wouldn't bother too much about those occasional public stares and their strange questions. But, things started to change when I crossed 26. I belong to a small town where a boy should get married by 25 or 26. Every time one of my friend or cousin would get married, I would feel more pressure for marriage. Government of India doesn't recognize vitiligo as a handicap, but, it is no less than a handicap when it comes to marriage. Having experienced the society's attitude towards vitiligo, I was very much sure in my mind that I need to search a girl with vitiligo for marriage. My family also agreed to this decision because despite of having a sound financial background and a reputed family status, they were not receiving any marriage proposals for me.
I tried everything that I could- joined almost all the matrimony websites and contacted all the marriage bureaus operating within 100 Km radius. The marriage bureau guys asked for extra money than the normal pricing as if I had a disability. Even after paying the extra fees, they couldn't help me. The matrimony websites were also of little help because it was so difficult to find a girl with vitiligo among thousands of profiles. It took me almost 4 years and then finally, I found Supriya on a matrimony website. In those 4 years, there was not a single day when I didn't curse vitiligo because I blamed it for all my troubles including delay in marriage."
Supriya, at some 130 miles from Amit, also had a similar story. A working professional in Pune with post-graduation in marketing. She, along with her mother, was also facing the heat due to vitiligo marks on the body.
"I lost my father during the childhood and my mother raised me and my elder sister alone. As we know, a daughter's marriage is certainly the most important task in parenting and when you are a single mother, the responsibility gets doubled. Thus, it was painful to see my mother facing all the troubles in my marriage due to vitiligo."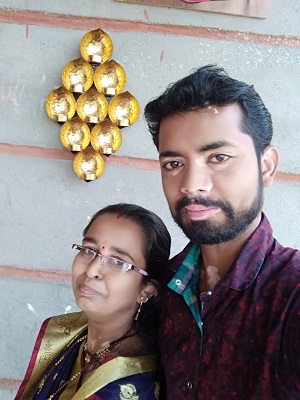 How they met?
After all the conventional options had been exhausted, Supriya reluctantly made a profile on a matrimony website.
"Luckily, I came across Amit's profile and noticed the vitiligo spots on his face. With a sense of curiosity, I went through his profile to confirm that he too got vitiligo. I shared his profile with my family and after their approval, I sent him a request. I was not sure of his response because I didn't have a photo on my profile. Actually, I was not confident about the security of the matrimony websites. So, I avoided sharing my picture there." says Supriya
Amit still rejoices the day when he received Supriya's request.
"It was something that I had been waiting for the last 4 years. When I received her interest and found that she too is dealing with vitiligo and she is also Marathi, I immediately accepted her request and took a paid membership to contact her. We exchanged photographs, talked over the phone and discussed a lot of things. We felt a sort of connection as if we knew each other for many years. Vitiligo and related experiences were such a big 'common' between us that it took hardly a few phone calls to decide that we are made for each other." says Amit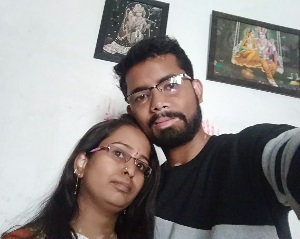 Their families welcomed this decision
Amit and Supriya came from different castes (communities) and intercaste marriage is still a big deal in India. But, their parents didn't bother for it as they just wanted a caring life partner for their kids.
"The 'caste' factor was completely out of the picture for me and my family. We just needed a caring and supportive girl who can accept me as I am with all the love and warmth. The one with whom I can spend the rest of my life without bothering about my white spots anymore. Same was the case with Supriya. Intercaste marriage was not a big deal for her family as well." says Amit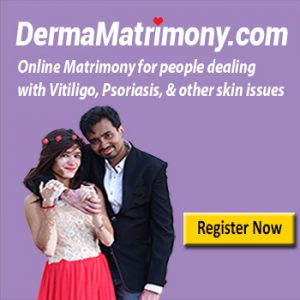 How this decision has changed their lives for good
"There was a time when I used to blame vitiligo for all my troubles. Everyday, I would pray to God and ask- why me? But, now I have realized that everything happens for good. God gave me vitiligo so that I can meet the love of my life. Having vitiligo, there are some hidden feelings and emotions which no else can understand, not even your parents or close friends. Only someone with vitiligo can relate to those feelings and if that person is your soulmate also, then you just can't ask for more." says Amit
Similar are the views of Supriya. For her, marrying Amit has completely eliminated the feeling of insecurity.
"Before marriage, I was crippled with numerous fears in my mind.
How my future in-laws would react to vitiligo?
What if vitiligo spreads to my face after the marriage?
All these have completely vanished. As both of us have vitiligo, so, it really doesn't matter if it increases or decreases in future. We are married for 6 months now and I hardly ever think about vitiligo."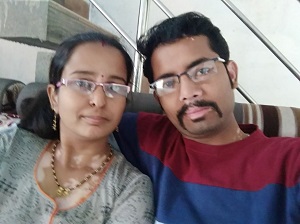 Message to fellow youngsters with Vitiligo
"Vitiligo doesn't make you any less than others. There is no need to feel sorry for something which is completely out of your control. So, love yourself, treat yourself respectfully and marry someone who love and accept you as you are. As far as the risk of vitiligo in kids is concerned, it is all about chance. Neither of my parents nor any of my close relatives is dealing with vitiligo and still, I got it. So, you just can't predict the future. Just stay positive in today and live a happy life with your family." concludes Amit
"Just like Amit, I am also the first person in my family to develop vitiligo. So, leave the future in God's hands and marry someone who understand that the real beauty lies inside, not just on the skin." smiles Supriya.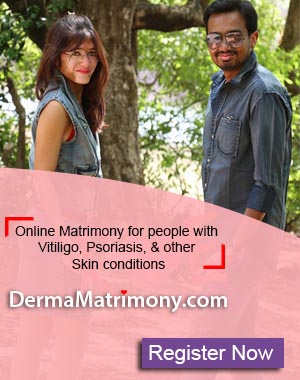 DermaMatrimony.com is here to help
It took almost 4 years for Amit to find Supriya on a matrimonial website. It is a very long period!
But now, DermaMatrimony.com is here to change this scenario. It is an online matchmaking platform for people with skin conditions. Whatever be your skin condition- vitiligo, psoriasis, albinism, dermatitis, eczema, burn, scar, birthmark or just any skin condition- you would find hundreds of matching profiles in just no time.
So, what are you waiting for? Register free and search your soulmate.
Receive Love, Hope & Inspiration...
Subscribe to our mailing list for Positive, inspiring articles
Thank you for subscribing.
Something went wrong.